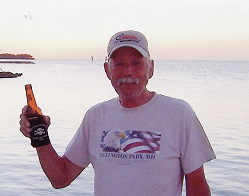 Patrick John (Pat John) Forrest, Sr., son of Louis K. Forrest, Sr. and Patricia Bankowski Forrest passed peacefully at his home surrounded by his family on November 17, 2015. Pat John was born on June 14, 1951 in Leonardtown, MD. He has one brother, Louis K. (Sonney) Forrest, Jr. (Charlene) of Solomon's, MD.

Pat John Attended Great Mills High School before joining the Army. He served in the 82nd. Airborne Division. On October 24, 1970 he married the love of his life, Deborah Jean Reeder. Pat John and Debbie were married 45 years and have four children. Patrick John (PJ) Forrest, Jr. (Trina) of St. Inigoes, MD; Christopher Forrest (Margie) of St. Leonard, MD; Jessie Forrest (Amy) of Ridge, MD; and his "baby girl", Angela Forrest of Ridge, MD. Pat John has seven (7) grandchildren; Madison, Alyssa, Mercedes, Karissa, Emily, Jordan, and Kayla.

Pat John retired from Local 1590 as a Finishing Carpenter. Twenty of those years were spent with Gardiner And Gardiner Construction Company. His precision work can be found throughout the tri-state area. Some of his work was on the Chalk Point Cooling Towers, the Woodrow Wilson, Bay and Solomon's Bridges, and Nicks of Clinton. His last few years were spent as a Supervisor and doing finishing carpentry on numerous CVS stores in MD, DE, and VA. He was most proud of his work on the Cancer Center in Annapolis, MD. Pat John was always working himself out of a job!

He loved life, his children and grandchildren, and of course his wife, "Mom". A lifelong resident of Ridge, MD., Pat John enjoyed cutting grass on his John Deere, fishing, his Budweiser with family and friends, and having those popsicles for the grandkids in "Pop Pop's Garage". Pat John lived his life to the fullest, "hisway".

The family will receive friends on November 21, 2015 from 10:00 AM – 11:00 AM in St. Michael's Catholic Church Ridge, MD. A Mass of Christian Burial will follow at 11:00 AM with Father Peter Givanoni officiating. Interment will be private. In lieu of flowers the family requests donations to Hospice of St. Mary's P.O. Box 625 Leonardtown, MD 20650 or Ridge Vol. Rescue Squad, P.O. Box 456 Ridge, MD 20680. Arrangements provided by Mattingley-Gardiner Funeral Home.