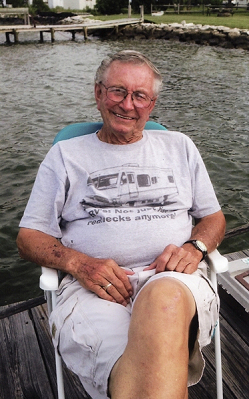 David "Donald" O'Donell McKenney, 83, of St. George Island, MD passed away on November 1, 2015 in Washington, DC. Born on May 3, 1932 in Leonardtown, MD, he was the son of the late Lottie Roena McKenney and David Amos McKenney.

Donald was the loving husband of the late Phyllis Ann McKenney whom he married on October 29, 1953 in St. George Island, MD and preceded him in death on June 27, 2001. He is survived by his children: Shyrl Bradford of St. George Island, MD, Deborah Morley of Leonardtown, MD. 5 grandchildren and 4 great grandchildren. Siblings: Ruby Goddard of Piney Point, MD, and Peggy Luczycki of Jacksonville, FL. He was preceded in death by his son David Gerald McKenney, and siblings; Lavern Thompson, and Mary Ellen Burke.

Donald was a lifelong St. Mary's County, MD resident and he was a waterman. He was a member of St. George Church Island Methodist Church, he loved: NASCAR racing, baseball, Washington Redskins, but most of all he loved the water and fishing.

The family will receive friends on Monday, November 9, 2015 from 5:00-8:00 PM with prayers recited at 7:00 PM in the Mattingley-Gardiner Funeral Home, P.A. A Funeral Service will be held on Tuesday, November 10, 2015 at 10:00 AM in St. George Island Methodist Church, Piney Point, MD with Pastor Tiffany Kramer officiating. Interment will follow in the church cemetery. Pallbearers will be: David J. Morley, Chris Morley, David M. Morley, Ian Bradford, Francis Goddard, and David Burke. Contributions may be made to the ARC of Southern Maryland, 22950 Abell Street Leonardtown, MD 20650. Arrangements provided by Mattingley-Gardiner Funeral Home.