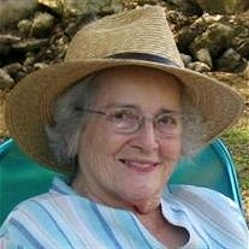 Jean Cooksey Raby, 91, of Indian Head, MD passed away peacefully on October 29, 2015 at Hospice House of Charles County surrounded by her loving family.

Jean born in La Plata, MD, to Douglas and Natalie Cooksey on May 20, 1924, grew up in a household of sisters in the Spring Hill area and graduated from Sacred Heart High School. She attended secretarial school in Washington, DC and worked during World War II at the Naval Powder Factory in Indian Head. In 1944 she married Kenneth Raby and they danced through life together for 65 years. Along with her husband's family, they operated local automotive businesses and a movie theater.

The mother of eight children, Jean was involved in school and church activities and was a member of St. Mary Star of the Sea Church. She and Kenneth belonged to the Indian Head Businessman's Association and the Democratic Club of Charles County. Jean was an insurance agency office manager, held a real estate license, and was a member of the Business and Professional Women's Club. In the early 70's she became Deputy Register of Wills for Charles County retiring after 20 years. She loved and honored her heritage which ran deep in Charles County and in her beloved state of Maryland.

Jean spent her retirement reading about local history and researching the genealogy of her Cooksey and Radcliff families, and enjoying time with her grandchildren and great- grandchildren. Throughout their lives, she and Kenneth enjoyed traveling with siblings up and down the east coast and visiting their children and grandchildren out of state. She enjoyed socializing with a close group of friends Margaret Corcoran, Gertrude Wright, and Alma Metcalf known as the "golden girls".

Jean was preceded in death by her husband, Kenneth; great-granddaughters, Rachel Griffin and Bryce Griffin; sisters, Shirley Hodge, Eleanor Albrittain and Mary (Duckie) Nairn; and her special cousin, Audrey Armsworthy.

She is survived by her children, Karen (Kay) Campbell, Leda Kress (Mike), Kenneth Raby Jr., Daniel Raby (Carol), Stanley Raby, Douglas Raby, Mary Beth Frazier (J.D.) and Gemma Colford (Michael); 18 grandchildren and 29 great-grandchildren. Also her sisters Elaine Foster and Alice (Sweetie) Sinsel; brother-in-law, Byrd Raby; sisters-in-law Vila Zverina and Wanda Elliott; and a host of loving family and friends who will miss her.

Family and friends will be received on Thursday, November 5, 2015 from 2-4pm and 6-8pm with a Wake Service at 7PM at Raymond Funeral Service Chapel in La Plata, MD. Funeral Mass will be celebrated on Friday, November 6, 2015 at 10am at St. Mary Star of the Sea Church in Indian Head with interment immediately following at St. Charles Cemetery.

A donation in Jean's name to the Hospice House of Charles County or to The Foundation Fighting Blindness, 1435 Cronhill Dr., Owings Mills, MD 21117, would be appreciated. Arrangements provided by Raymond Funeral Service.