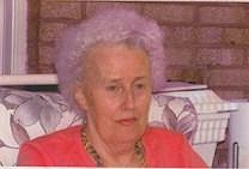 Louise Patricia Caspar of Waldorf, MD died on November 1, 2015 at Southern Maryland Hospital. She was born on October 6, 1938 in Washington, D.C. to the late Floyd and Margaret Jones. She was preceded in death by her brothers, Franklin Jones and Buddy Jones.

Louise was a devoted wife, loving mother and wonderful homemaker. She is survived by her husband of 56 years, Michael Caspar of Waldorf, MD; her two sons, James Caspar of Lusby, MD and Dennis Caspar (Stephanie) of Burke, VA; four grandchildren (Brandon (Crystal), Danielle, Jason and Luke) and two great-grandchildren (Mason and Sebastian). Also surviving is her sister, Margaret Smith of Prince Frederick, MD and many nieces and nephews.

The family will receive friends on Wednesday, November 4, 2015 from 5:00-8:00 p.m.. A funeral service will be held Thursday, November 5, 2015 at 10:00am at the Huntt Funeral Home with the burial immediately following in Trinity Memorial Gardens, Waldorf, MD. Arrangements provided by Huntt Funeral Home.