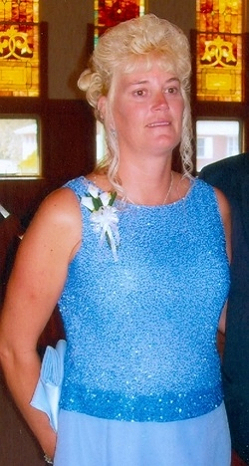 Robin Ann Bassford, 50, of Mechanicsville, MD passed away surrounded by her children and family at Chesapeake Shores Nursing Home, Great Mills, MD. Robin was born March 20, 1965 in La Plata, MD, the youngest daughter of the late Mary Emily (Burch ) and Walter Edward Bassford.

Robin is survived by her daughter Tammy Campbell ("G") of Lexington Park, MD; son Robert Bassford (Jessie) of Mechanicsville, MD; four grandchildren Nathaniel, Chloe, Callie and Cammie; siblings Walter Bassford (Veronica) of Mechanicsville, MD, Dian Aeschlimann (Larry) of West Virginia, Edith Woodall (Mike) of Hughesville, MD, Brenda Simpson (Fox) of Waldorf, MD; caregivers Sheroline and Mark Fletcher, along with her nieces and nephews and cousins.

Robin grew up in Hughesville, MD, attending St. Mary's Catholic School, John Hanson Middle School, and Thomas Stone High School. Although Robin did not graduate from Thomas Stone High School, she returned to night school and received her GED. Robin was so proud of herself and so were her children and family.

Robin was employed at Moreland's County Store. Robin enjoyed gardening with a love for flowers, sewing, and needlepoint. Robin enjoyed racing her race car at Potomac Speedway and MIR. She also enjoyed NASCAR, Jeff Gordon being her favorite driver. She enjoyed her dogs Gandoff, Arwin, and Titan. Pink was her favorite color.

In lieu of flowers memorial donations can be made to Hospice of St. Mary's, P.O. Box 625, Leonardtown, Maryland 20650. Family will welcome friends on Sunday, November 1, 2015 for a life celebration at 11:00 AM to 1:00 PM followed by a service at 1:00 PM, at Brinsfield-Echols Funeral Home, P.A., 30195 Three Notch Road, Charlotte Hall, MD 20659. Arrangements provided by Brinsfield-Echols Funeral Home.