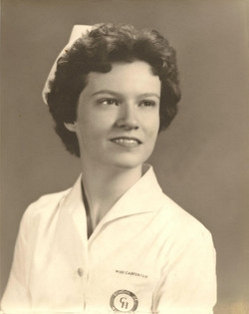 Georgia Jean Carpenter, age 70, of California, Maryland, died October 24, 2015, at MedStar Georgetown University Hospital. Born March 30, 1945 in Bayonne, New JerseyGeorgia moved to St. Mary's County in 2002 to be near her children, Christine Trent (Jonathan) and Anthony Papadakis (Lori).

Georgia had several careers, but the one she was most passionate about was nursing. She loved medicine and the care of patients, and continued to read up on medical advancements well into retirement, even purchasing nursing textbooks to keep up on the latest in patient care.

Georgia prized reading above all activities and collected books on a variety of topics her entire life. She instilled this love of books, as well as a deep devotion to learning, in both of her children. When Christine decided to write historical fiction novels, Georgia enthusiastically served as Christine's informal editor and offered many suggestions for improving manuscripts. Georgia also enjoyed crochet, and was responsible for many lap blankets donated to charity. A member of the Catholic Church since 1983, Georgia most recently attended St. Aloysius Gonzaga Church in Leonardtown.

In addition to her two children, Georgia is survived by her grandson, Nicholas Papadakis, and by granddaughters Alexandra and Alyssa Papadakis.

The family will receive friends on Thursday, October 29, 2015, from 5:00 to 7:00 p.m., at Brinsfield Funeral Home in Leonardtown, Maryland. A funeral service will be held on Friday, October 30, 2015, at 10:00 a.m., at St. Aloysius Gonzaga Church in Leonardtown, with Father David Beaubien presiding. Interment will follow immediately thereafter at Charles Memorial Gardens in Leonardtown.

Georgia will be carried lovingly to her final resting place by pallbearers Anthony Papadakis, Nicholas Papadakis, Jonathan Trent, Christopher Trent, Paul Trent, and Dennis Dougan. In lieu of flowers, donations may be made to MSMH Cancer Care Infusion Services, 25500 Point Lookout Road, Leonardtown, MD 20650. Arrangements by the Brinsfield Funeral Home, P.A., Leonardtown, Maryland.